Balancing housing, environment, and community priorities
The Rancho del Prado Specific Plan describes a 203-acre master-planned residential community named Rancho del Prado to be developed in the rolling hills and ridgelines adjacent to Reche Canyon Road in the City of Colton. The project will facilitate necessary improvements for the existing communities while creating a new enclave of walkable, community living.
The plan would allow for a maximum of 350 single-family detached homes, clustered in two distinct neighborhood areas and connected by a road that connects Prado Lane on the north with Crystal Ridge Lane on the south. A homeowner's association will be created to maintain common areas and enforce neighborhood covenants, conditions, and restrictions (CC&Rs).
The 203-acre project area will include more than three miles of recreational trails, 8.3 acres of open space parks, and 87 acres of conserved open space. If the plan is approved, the Specific Plan applicant would also dedicate an additional 227 acres of natural open space to the immediate northeast, conserved in perpetuity to protect ridgelines. Taken together, the project and additional conservation area comprises 322 acres of parks, trails, and open space—representing approximately 75% of the overall 430 acre land area.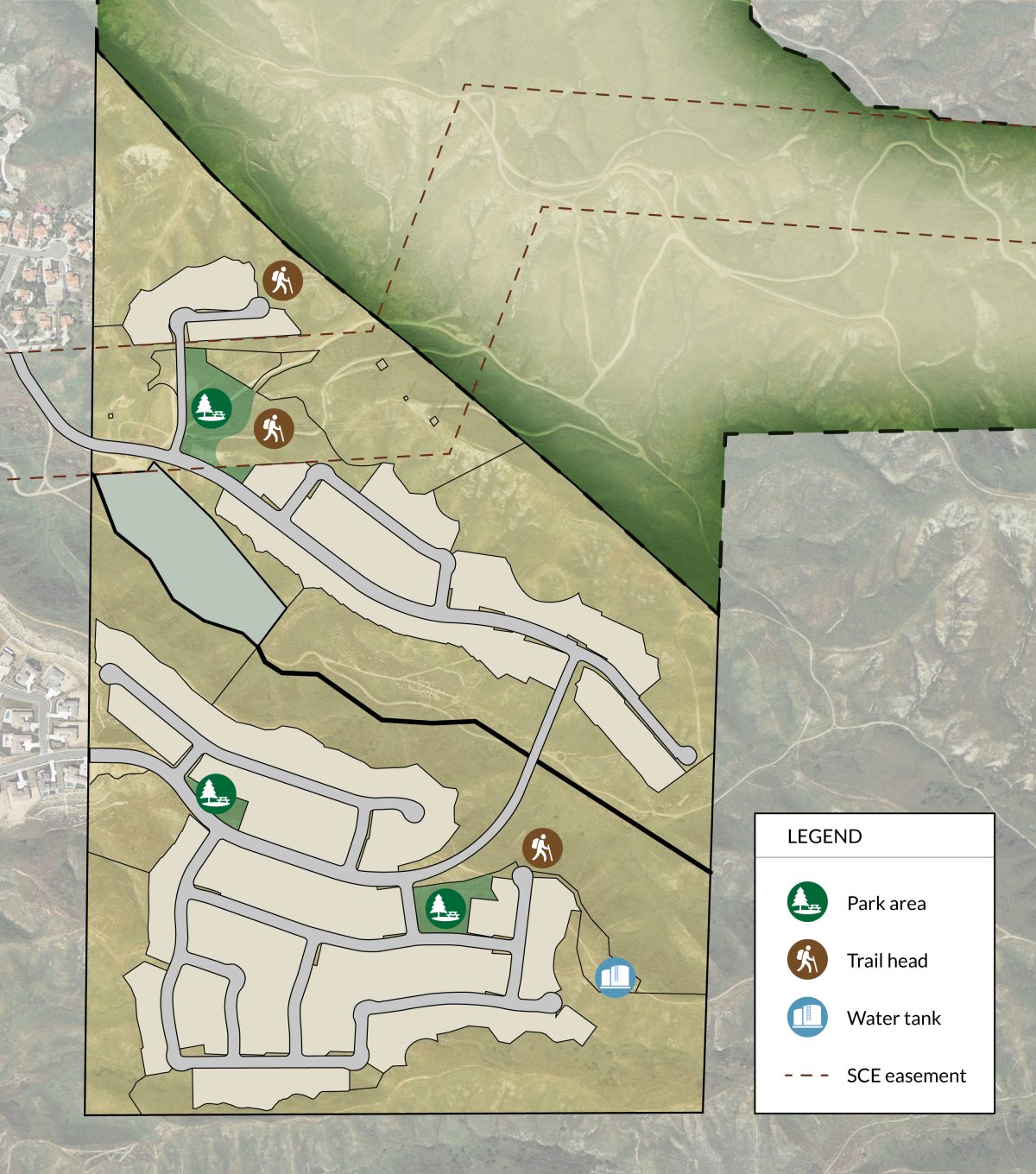 At a glance
Maximum of 350 homes clustered in two distinct neighborhoods within the 203-acre community
Almost half the land within the community set aside for parks, trails, and open space (95 acres)
Over 3 miles of recreational trails within the community
Conservation of an additional 227 acres of adjacent open space to protect the ridgeline to the immediate northeast
Varied lot sizes to create "move up" opportunities
Provides catalyst to fund roadway improvements and on-going revenue for police, fire, libraries and schools
Careful grading avoids ridgelines and reduces the need to truck dirt in or out of the site
Broad, pedestrian-oriented main road encourages walking and meeting neighbors
On-site emergency fire facilities and fire-resistant plant buffer zones
Looped connector road creates secondary point of exit for new and existing neighborhoods
Upgraded water infrastructure for Prado Lane and Crystal Ridge communities
New community recreational areas, including a dog park, two landscaped parks, and a large passive park
Designed with Colton's planning priorities in mind
The City of Colton is in need of more market-rate and step-up housing. Rancho del Prado will provide the opportunity for new, market-rate single family housing that fits the area's market and complies with Colton's General Plan.
Shaped by the natural landscape
Reche Canyon's natural beauty is one of the main features of Rancho del Prado and conserving it is one of the priorities of the plan. Dictated by the terrain (which defined placement of housing, roads, parks, and open space), the plan limits the amount of earth-moving required.
Informed by the needs of the larger community
The Rancho del Prado Specific Plan was designed to serve as a catalyst for needed improvements and safety elements in Reche Canyon. Traffic, fire safety, and emergency access are each addressed in the proposed project and will be studied and evaluated as part of the Environmental Impact Report (EIR) for the proposed project. The EIR will also review potential mitigations to limit impacts and improve the overall project.
Frequently asked questions
What is the size of Rancho del Prado and how much of it will be open space?
admin
2020-02-25T09:50:55-08:00
The entire Rancho del Prado project area totals 203 acres, of which over 46%—95 acres— will consist of parks and conservation land. An additional 227 acres to the northeast of the site will remain open space in perpetuity to protect adjacent ridgelines.
In total, 322 acres (75%) of the overall 430 acre land area will be conserved as parks and open space.
Conserving open space
Beyond the 95 acres of parks and open space within the project area, the plan would set aside an additional 227 acres of open space conserved in perpetuity to protect ridgelines to the northeast. Together, these conservation areas represent approximately 75% of the total 430 acre land area.
Watch the video to learn more about the location and terrain.
Open space above Rancho del Prado