Given the rural environment, hilly topography, and dense wildland vegetation, fire safety is a constant concern in Reche Canyon. Currently there is limited access in and out of the canyon for fire safety and emergency vehicles, for first responders, and for residents. Understanding this, the Rancho del Prado project includes features that would make the canyon a significantly safer and more resilient environment by addressing the availability of wildfire-fighting aids and improving emergency access to better protect residents of the area.
Building the infrastructure for a safe community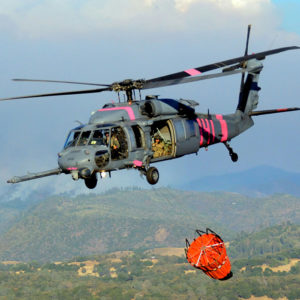 The project would establish a Reche Canyon aerial firefighting base station that would include a new water reservoir, a helipad for emergencies and medical evacuations, and dip tank station for firefighting helicopters. This reservoir would be located within the project site adjacent to the South Hills Preserve and would benefit all of Reche Canyon.
The project would also expand and improve the City's existing domestic water and fire protection system to provide a looped water system connecting all three communities. (Currently, the City's water service lines terminate at the end of Prado Lane and Crystal Ridge Lane.) Combined with an improved pump system, this looped connection would significantly improve water pressure to meet current fire-flow standards.
Additional evacuation routes
Although there are some exceptions, development projects within a High Fire Hazard Severity Zone require two points of access. Unfortunately, currently both Crystal Ridge and Prado Lanes dead end, leaving only one point of access. The project will finally provide a looped connector road between them, resulting in two points of access for all three communities.
And as described in the Roads & Traffic section, the project is working to identify and create additional exit routes out of the canyon.
The project would also act as a buffer to future fire hazards and establish fuel modification zones—areas where combustible vegetation has been replaced with more drought-tolerant, fire resistant plants—to provide long-term fire protection. To further protect the three communities, residential fire sprinklers would be installed in all homes constructed within the project.
Frequently asked questions
How will the existing water system be impacted?
admin
2020-02-25T10:03:57-08:00
Significantly—and the existing water system will actually be improved. A 1.5M gallon reservoir will be constructed along with a looped transmission pipeline creating a looped water system between Prado and Crystal Ridge Lanes. This looped system improves water pressure, redundancy, and firefighting capacity for the area. In addition, the Crystal Ridge development would be provided consistent and reliable domestic and emergency service that does not depend on an emergency pump station. This is a vast and necessary improvement.
Where is the water for the development coming from?
admin
2020-02-25T10:04:16-08:00
The City of Colton will provide water service to the project. Rancho Rancho del Prado will construct a 1.5M gallon reservoir that will connect to and upgrade the existing water distribution system so that it is capable of not only meeting the projected water demands and fire flows for the project, but improves the system for the adjacent existing neighborhoods. These upgrades will ensure better domestic service to the residents of Crystal Ridge, Prado Lane, and Rancho del Prado.
How will fire protection be improved for the area?
admin
2020-02-25T10:02:30-08:00
The location of Rancho del Prado requires a defense against wildfire. This is important not only to the future residents of Rancho del Prado but also all of the Reche Canyon area. Rancho del Prado will include:
A new water reservoir
Firefighting infrastructure, including a dip station and helipad for firefighting uses
Potential locations for fire command posts and staging areas
A substantial defensive fire buffer for the Prado Lane and Crystal Ridge communities created by Rancho del Prado's focus on fuel modification zones (including fire-resistant landscaping) and other specific standards for increased protection
Planting a defensive buffer against wildfire
Preventing the spread of fire is as important as fighting it. Landscaping in Rancho del Prado will include wide buffer zones of fire-resistant plantings (fuel modification) between homes and undeveloped open spaces that will help protect all three neighborhoods. This defensive barrier will be maintained by Rancho del Prado's homeowner's association and specified in its Covenants, Conditions & Restrictions (CC&Rs).